I know Yahoo had a crappy "Weather Update" just over a week ago…
When I checked my rank reporting program today, I noticed some more dramatic movement in Yahoo across several sites and keywords…
So, I went directly to the source and began keying in some searches at Yahoo and noticed something I haven't seen before at the top of the results: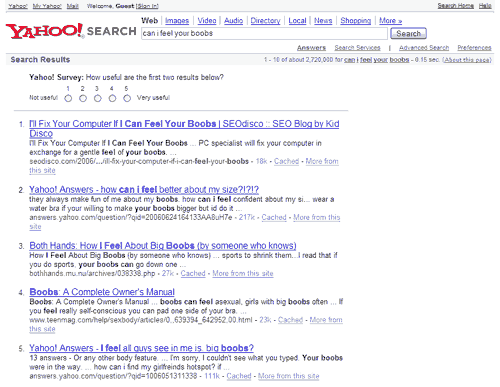 Closer look:

So, is everybody seeing this? I'm getting it for everything I search for.
Is this something new? Or have I been completely out of it?
There's obviously some more updating going on… I'm seeing some even more redunkulous rankings in the SERPs…
Update: I thought that if anybody knew anything about this, it would be Barry… so, I shot him an email and he pointed me over to a post on SERoundtable, of course. 🙂
The instance that I caught appears to be a little different from what Barry posted back in July. I should add that although the survey appears above the organic results in the screenshot above, if I queried a term that delivered sponsored ads, the survey appeared above the sponsored ads section.
Also, once I clicked one of the radio buttons, a quick "Thank you…" flashed and then the survey disappeared. Now, I am unable to see the survey again, even after clearing my cache and starting a new session.
Holla!
—kid disco