Who would've guessed that the company that manufactures the machine you make photocopies of your ass on could be the next big thing in search? Or not…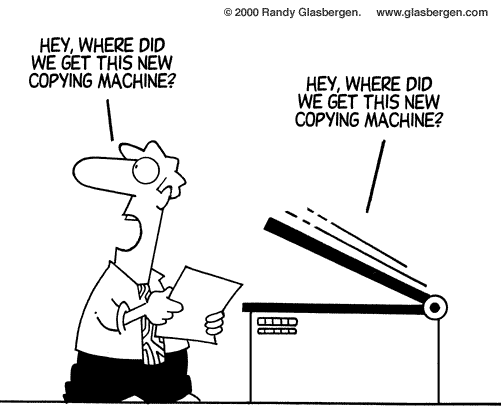 An article in Forbes enlightens us about Xerox:
Researchers at the document-management company's European R&D center announced Wednesday that they've developed a new type of search technology, called FactSpotter, which can handle natural human phrases, and search for related results that include synonyms and pronouns within a document.
So, FactSpotter sounds super-cool and all, right?
Segond says typical search engines dig through only 40% of relevant documents in the course of a search query, simply because the searcher didn't input all the possible keywords. In a search about statements made by Bill Gates on a certain date, Segond says FactSpotter knows that that "Bill Gates" is the same as "Microsoft Chairman," which is the same as "he," and can distinguish between things said by him and things said to him.
So, were basically talking about latent semantic indexing, here. We know that Google is continually trying to improve upon their own semantic analysis and indexing algo. What does Xerox have up their sleeve?
Unfortunately, most of us won't find out for quite awhile.
"Consumers are not Xerox's market," says Frederique Segond, manager of parsing and semantics research at the company's European research center. "It's natural that we're looking to commercialize this through enterprise search. I would simply love to see people using it and getting profit out of it."
If FactSpotter can do what they say it can do, why aren't they putting it up for public consumption? I have a few guesses:
It doesn't do what they say it can do.
They want to start on a smaller scale and test it out in enterprise search, first.
Maybe there's more money in the short term to release it commercially? Then the profits can go back into more research and development to improve upon it.
If their algo is sound and they do decide to release it to the public, I'd rather see Yahoo, Microsoft, or Ask to buy it out and finally give the big Goog some competition. However, for this to happen, it has to happen sooner than later because FactSpotter could become a common technology pretty soon.
Any thoughts?
—kid disco