So, I upgraded to Version 2.3 "Dexter" of WordPress two days ago. I initially thought they named it "Dexter" for the upcoming season 2 premier of the Showtime series about America's favorite serial killer of the same name (which I can't wait for!), but apparently it's named after tenor sax great, Dexter Gordon.
Anyway, the upgrade process went as usual. I upgraded from 2.1.3 and went through the whole process of backing everything up, etc… After a previous fiasco, I'm not gonna be taking any chances.
There are a few cool new features that come with this upgrade:
Native tagging support allows you to use tags in addition to categories on your posts, if you so choose. We've included importers for the Ultimate Tag Warrior, Jerome's Keywords, Simple Tags, and Bunny's Technorati Tag plugins so if you've already been using a tagging plugin you can bring your data into the new system. The tagging system is also wicked-fast, so your host won't mind.
Our new update notification lets you know when there is a new release of WordPress or when any of the plugins you use has an update available. It works by sending your blog URL, plugins, and version information to our new api.wordpress.org service which then compares it to the plugin database and tells you whats the latest and greatest you can use.
We've cleaned up URLs a bunch in a feature we call canonical URLs which does things like enforce your no-www preference, redirect posts with changed slugs so a link never goes bad, redirect URLs that get cut off in emails on similar to the correct post, and much more. This helps your users, and it also helps your search engine optimization, as search engines like for each page to be available in one canonical location.
Our new pending review feature will be great for multi-author blogs. It allows authors to submit a post for review by an editor or administrator, where before they would just have to save a draft and hope someone noticed it.
There is new advanced WYSIWYG functionality (we call it the kitchen sink button) that allows you to access some features of TinyMCE that were previously hidden.
Wait… did they say canonical URLs? That's like an SEO thing, isn't it? So, I looked into exactly what they were doing with the URLs…
According to Mark Jaquith, an official contributing developer to the WordPress project:
My goal for WordPress 2.3 was to cover the majority of canonical URL issues that people have and make WordPress automatically redirect those requests to the correct (canonical) URL for that resource. Early tries at this functionality had issues with being too aggressive. I rewrote the functionality multiple times, until I settled upon the current incarnation. I'm quite happy with it.

Ideally, you shouldn't even be aware of the feature.
He's absolutely right… I have no idea what this new feature does. I know what it's supposed to do, but I don't see anything different happening compared to the previous version. Nothing is redirecting, there's nothing new in my .htaccess (yes, it's writeable), and this post is still viewable at the following URLs:

http://www.seodisco.com/2007/09/28/wordpress-23-dexter-canonical-urls/
http://www.seodisco.com/2007/09/28/wordpress-23-dexter-canonical-urls
http://www.seodisco.com/index.php/2007/09/28/wordpress-23-dexter-canonical-urls/
http://www.seodisco.com/index.php/2007/09/28/wordpress-23-dexter-canonical-urls
http://www.seodisco.com/?p=270
http://www.seodisco.com/index.php/?p=270
Can anyone tell me what they actually did with this supposed update for canonical URLs?
Another issue I have is with the login page. Whenever I go to the login page, I get this: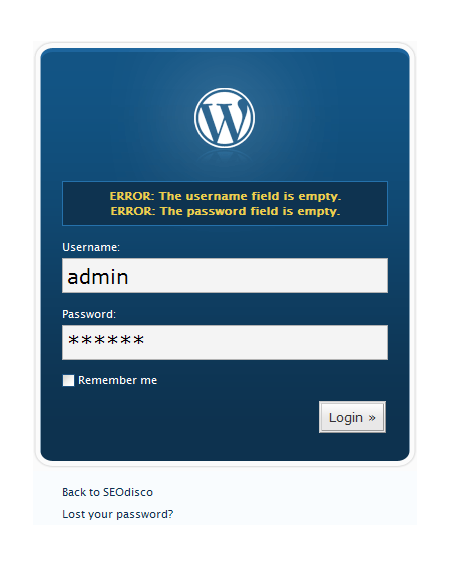 Uhh… It looks like the fields are filled, to me! I saved the login info in Firefox so that it's automatically populated, but these error messages appear when I visit the page… before I even try to login. I also tried it in Internet Explorer where I don't have to login info saved and I still get the same thing. Nevertheless, I can login fine.
Also, they didn't bring the preview frame in the admin, but the Preview Frame Plugin still seems to work okay in WP 2.3.
On that note, I do like the new plugin update notification system. Previously, you had to visit the plugin developer's page to see if there are any updates. If you have a lot of plugins, this could be a tedious task. Now, all you have to do is go to your Plugin tab within your WP admin and it will display a notification underneath the specific plugin if any updates are available.
So, that's all I have to say about WordPress 2.3. It appears as though Graywolf had a few things to say… what does everybody else think about the newest version?
Holla!
—kid disco