I've had my Twitter account for about a year, now, but I didn't really "get it" at first – mostly because there weren't very many tweeps (twitter/peeps) on there that I cared to tweet to, or with. It wasn't until November that I saw more and more tweeps that I knew, thus Twitter became a staple in my ever-growing social media disorder.
If you are not familiar with Twitter, I would describe it as an online group short messaging service. Basically, you can write messages using up to 140 characters, and those who follow you will be able to see your messages and reply… and vice a versa. So, it's really like group text messaging… online… and on your phone.
Reading through their FAQ page, it seems like Twitter was initially planned primarily for use through your cell phone text messaging service, but (while many do use Twitter through their cellys) I feel like things have moved more toward the web. Maybe that's why they keep having all them "over capacity" issues…
Twitter describe's itself as such:
Twitter is a service for friends, family, and co–workers to communicate and stay connected through the exchange of quick, frequent answers to one simple question: What are you doing?
I would say that the tipping point for Twitter among us SEO folk occurred towards the end of January after Brian Chappell posted 75+ Internet Marketing Gurus on Twitter. The list has since grown to over 200 with tweeps continuing to add their Twitter URLs in the comments.
I have found it to be extremely useful for:
Quick answers to random questions
Breaking news
Promoting stuff
Venting
Saying weird shite
Peddling my various requests
Seeing what others are up to when they should be working
Laughing at tweeps who think they know their shite
Wondering if anyone is laughing at me…
Now, I have over 300 followers who can read whatever sweetness I feel like writing within 140 characters. If you are not following me already, you can find me here: twitter.com/ckdisco.
Twitter Tools
If you're using Twitter and blogging on WordPress, then the Twitter Tools plugin by Alex King is pretty much a must-have. As Alex describes it:
Twitter Tools is a plugin that creates a complete integration between your WordPress blog and your Twitter account.
To install it, just like you've most likely done with other plugins, all you have to do is download the .zip file and upload it to your WordPress plugins directory, then activate it from the Plugins page in your WordPress Administration.
Once Twitter Tools is activated, you'll have a new page for it under Options:
(click on image to enlarge)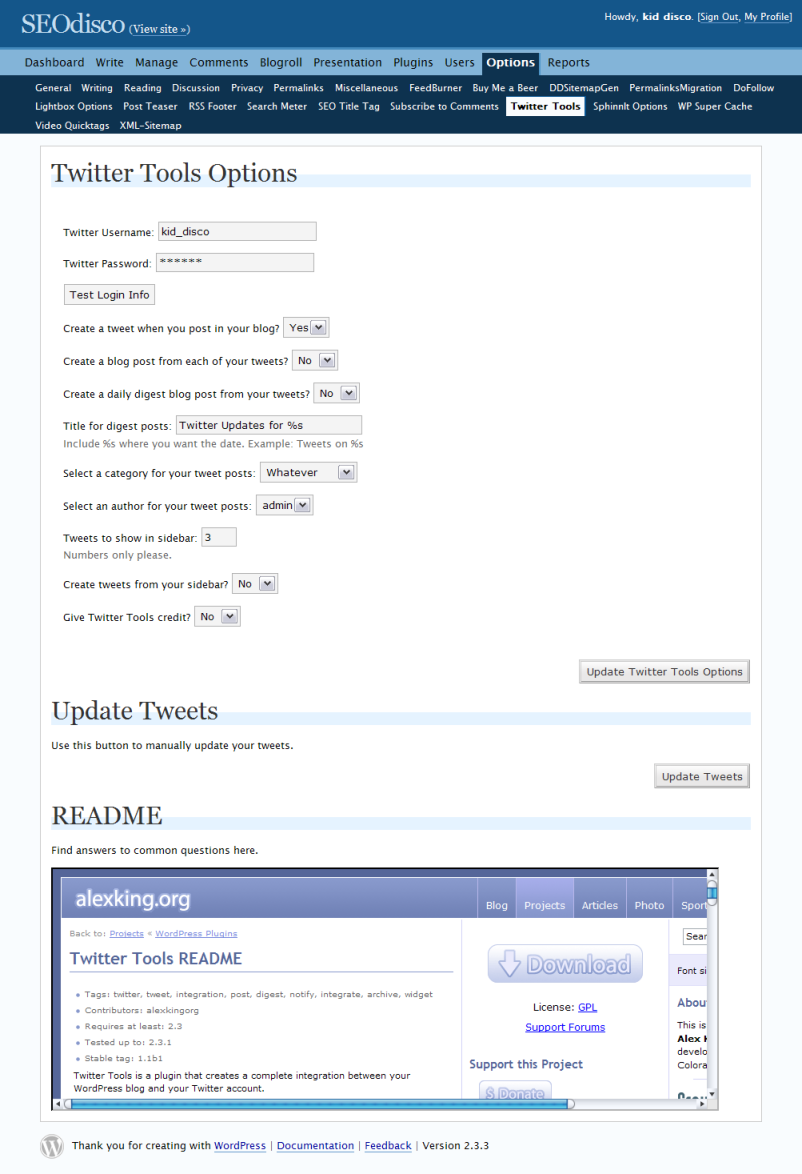 After you add your Twitter username and password, the options are:
Create a tweet when you post in your blog? I have this set to YES. So, every time I post something on my blog here, a message like this one is automatically tweeted:
(click on image to enlarge)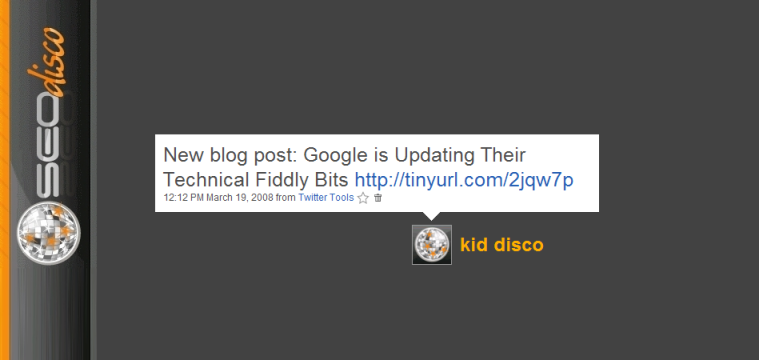 Create a blog post from each of your tweets? I have this set to NO. If set to YES, every time you post a tweet, a blog post will automatically be created on your blog with what you tweeted. I don't see why you would want to do this.
Create a daily digest blog post from your tweets? I have this set to NO. If set to YES, all of your tweets made during the day will automatically be listed in one post. I have this enabled on my personal blog. This seems to be a lot more tolerable than the option above.
Title for digest posts: If you set the option above to YES, choose YES here if you want to customize the title for your daily digest posts.
Select a category for your tweet posts: Here, you can select the category on your blog that the automatic blog posts made from your tweets should go under.
Select an author for your tweet posts: Here, you can select the author on your blog to whom the automatic blog posts made from your tweets should be assigned to.
Tweets to show in sidebar: If you wish to display your latest tweets in your blog sidebar, you can set the number of tweets to display here. I have mine set to 3, as you can see in my sidebar under Kid Disco's Latest Tweets. In order to enable the sidebar option, if you are using widgets, you can simply drag Twitter Tools to your sidebar. If you are not using widgets, you can add the following code in your sidebar file:
<?php aktt_sidebar_tweets(); ?>
Create tweets from your sidebar? I have this set to NO. If set to YES, you'll get a little text box like this under your sidebar tweets where you can post tweets from, only if you're logged in to your WordPress Admin (those who are not logged in will not see it):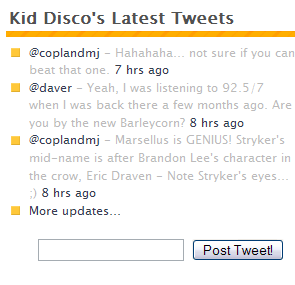 I have this set to NO. If set to YES, the following text will be display under your sidebar tweets:
Powered by Twitter Tools
Last, there is an Update Tweets button which you can click to manually refresh the tweets that appear in your sidebar, if you have enabled that option. I do not use this, but the tweets that are displayed in my sidebar do tend to be behind a couple of hours.
So, there you have it! Twitter and WordPress. It's a great combination and Twitter Tools makes it easy to integrate the two to function with each other. To be honest, I installed Twitter Tools a few months ago and haven't touched it since. Just set it and forget it!
There are a bunch of other great Twitter resources and tools out there. Here are a few of the latest and greatest:
So, there ya go folks. Now, just follow me and go get your Twitter on!
Tweez,
—kid disco