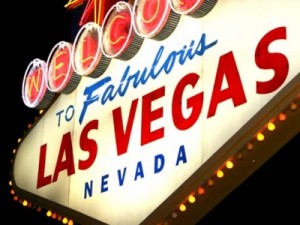 Yep… you read it right: 2007.
Okay… so, I drafted this back in December of 2007, the week right after Pubcon.  Here we are, almost an entire year later, with the absolutely last recap of PubCon 2007 in Las Vegas.  Now, someone better not write a PubCon '07 recap after I post this.  Otherwise, I'll have to rename the title of this post to: The Best Last Recap of PubCon 2007 in The Vegas.  Anyway, without any further ado…
So, you've all probably heard the stories and read the recaps by now. I don't have the time or patience to do a comprehensive writeup, so I'll just point you over to this quick recap by Dave Davis, mention a few random things, and get on with the link-orgy…
First off, I didn't even have a conference pass… I just went to Vegas because I didn't want to miss another PubCon, It's not a bad drive, and I wanted to hang out with everybody. The last major search conference I went to was SES – San Jose in 2006, so I didn't want to miss this huge opportunity to get together with friends that I haven't seen since then, and have the chance to meet others who I've communicated with online for some time.
So, I slept and worked during the day and then partied through the night.  I was surprised with the amount of conference attendees that came out from oversees. After a few days, I found myself thinking in a British accent.
There's a ton of pics from the conference up on Flickr.  Lots of peeps in the expo hall seemed to enjoy my homage to Entourage:
CK and Lee Odden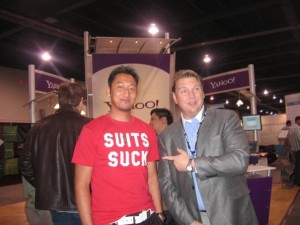 Anyway, here are the great peeps that I got to talk to and hang out with, plus a little blurb of whatever comes to mind.  (Please keep in mind that this was written almost a year ago! I just finally got around to linking the names… 😛 )  I'm bound to have missed at least a few, so I apologize in advance!  In no particular order – oh wait, it's alphabetical by last name… 😛
Look at those names!  If you are in the search marketing industry, how could you not try your damndest to hang out with these people?  Not to mention, there are these conference session things you can go to and learn some badass stuff!
All in all, it was a rockin' good time and well worth the time and money.  I will definitely be attending PubCon in Vegas next year (That would be next week)!  If I missed you in the shout-outs, feel free to let me know in the comments.
Make sure to check out DK's Schedule for the week of PubCon.  I have registered for Fight Club and the Poker Tournament.  You can try to win a chance to fight Pam or kick Sugarrae's ass!  Also, follow @josephmorin on Twitter for party info, events, drink specials, discounts, show info and line passes/passwords!  Can't wait to party with ya'll!

Late,
—kid disco