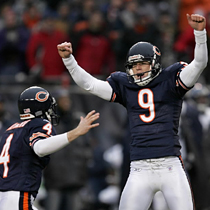 Since Rand gets to post about his Seahawks on his supremely authoritative blog, and I want to be like Rand… The discosis property (that I just made up) states that I get to post about my Bears!
What a game!
I told Joe that my Bears would take care of the Seahawks!
It was quite the nail-biter, to say the least. If I was to suffer from a heart-attack at my early age, I think Mr. Grossman would be to blame… though he did manage to complete some key passes today!
Many of you may know that I have lived in the OC for the past three years, but I moved out here from Chicago, which is where I was born and bred. When the Bears won Super Bowl XX in 1986, I was in first grade and all the classes would get together every week to watch the Super Bowl Shuffle before watching the scheduled weekly video.
Anyway, what a great day for Chicago! Unlike the Cubs/Sox feud, Chicago only has the Bears to root for when it comes to football, so I'm sure the entire city is partying like crazy!
I'm predicting hoping for a Bears vs Chargers Patriots Super Bowl… what about you?
Yayuh!
—kid disco
P.S. Did you see Reggie Bush get rocked last night?