It seems like new social media sites are popping up everyday or an existing social media site adds new functionality for us to waste spend even more time on!
Lee Odden (Online Marketing Blog) recently posted a question on Facebook (an established social networking site) using the My Questions application (new functionality) asking bloggers:
Are you blogging less because of time spent on social sites like Facebook, Twitter and YouTube?
Many friends answered that while they are spending more and more time on social media sites, they aren't blogging less… just sleeping less!
With so many friends and colleagues utilizing various social media accounts, it's tough not to join multiple social sites in order to stay in the loop. It's becoming even more tough to manage and keep up with all of these sites and accounts.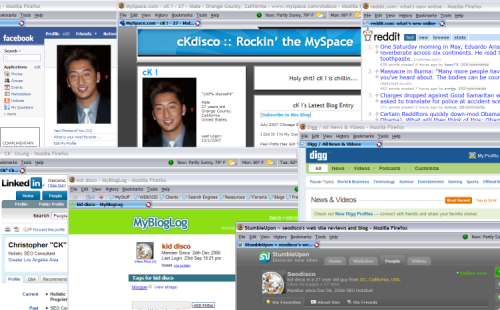 What are we to do?
The new thing appears to be social media aggregation sites. These sites attempt to combine the data from multiple social media sites so that users may access the information from their multiple accounts in one location. There are a few of these aggregation sites that are out there, but they have not seemed to gain too much traction:
ProfileLinker – This site is in beta and has been down "currently undergoing maintenance," but you can find some details on it at TechCrunch.
MyLifeBrand – I've had an account here since it has been in alpha. It is currently in beta and I never use it. The site acts as a social network itself. The aggregation part of it is you can add your other accounts to it and it will display them in an iframe. Unfortunately, many of the social media sites will break out of the iframe, rendering MyLifeBrand virtually useless in that respect.
There are a few other sites that aggregate a certain aspect of social media sites:
Spokeo – This site is basically a multimedia RSS feed aggregator. You can track items that sites offer an RSS feed for, but you can't actually navigate within the social sites.
Fuser – This site is currently in beta. It basically aggregates all of your email accounts and social media messages.
FriendFeed – In beta, as well, this site was featured in a NYTimes article today. It was founded by four ex-Googlers and basically aggregates your activity and your friend's activity on social media sites and streams them in, similar to Facebook's Mini-Feed system.
I think there we will be seeing a few more tries at social media aggregation. The sites that currently exist either do not completely fulfill the needs of those who are using multiple social media sites or are not developed enough to be considered very useful, yet.
Have you used any of the aggregation sites mentioned or do you know of any others that are useful? How many social media accounts do you have and how do you manage all of them?
Holla!
—kid disco