Yesterday, SoloSEO announced the official launch of their SEO project management service.
As someone who uses a mix of a bunch of free and paid tools to retrieve data and dump it all into custom, souped-up Excel files for recording and analysis, I immediately signed up for the free two-week trial and began messing around inside the admin area to see if this was a viable solution that I could use to consolidate my efforts.
The first thing I noticed is that the SoloSEO control panel strongly resembles the WordPress console, which is perfectly fine with me because I love WordPress…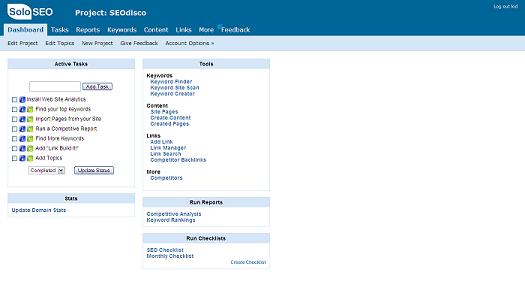 The first thing I had to do was submit my Google API key and XML site map URL.
Then, I ran through all of the tabs and tested out the features:
Tasks
The Tasks feature is extremely intuitive. It's extremely easy to keep track of your tasks and create checklists. My favorite part is the use of AJAX, which allows you to drag and drop tasks in the order that you prefer.
One note for the SoloSEO guys is the Delete option in the dropdown menus currently reads as Delee.
Reports
Competitive Analysis Report – Fetches top 10 sites in Google for the specified keyword and returns Google PageRank and page count, Yahoo backlinks and page count, occurances of the keyword in the title/h1/body, Alexa rank, and DMOZ links.
Keyword Rankings Report – Returns Google and Yahoo rankings for up to 10 keywords of your choice.
I had some high hopes for this section, which is why I went a little bit more into detail. Unfortunately, it did not deliver as I hoped.
When I ran the Competitive Analysis Report, it wasn't able to fetch the Google page count and the DMOZ links. Some of the Yahoo backlink counts were also completely off.
The Keyword Rankings Report was not accurate at all. The Yahoo rankings were all over the place and the Google rankings were not returned at all.
The service stores "Recent Reports" so you can view and email reports that you've run previously, though it does not say how long the reports are saved for.
It would also be nice if there was an option to re-run a report, instead of having to re-enter all of the information.
Personally, I would rather use the tools and my souped-up Excel files that I am currently using to retrieve and analyze this type of data.
Keywords
The keywords feature allows you to store and keep track of "all" of your keywords. It does not mention if there is a limit to the amount of keywords you can add.
Included are tools to help you find keywords, create keywords, and scan a site for keywords. The tools appear to function properly, but are very basic. Nonetheless, it is nice to be able to keep track of keywords and utilize keywords tools all from a single service.
Content
The content area features a neat little template that basically walks you through organizing your content to develop an SEO friendly page. There are a few guidelines in there that are amateurish (keyword density), but it sets out a good set of tips to keep in mind when creating a webpage.
However, I don't think this section is functioning correctly… After I followed the guidelines and saved my test page, I was redirected to the Keywords List. When I go back to the Content section, it says "No created pages have been saved." Then, when I click on the "Created Pages" subsection, my page is in there, but when I try to edit the page, all of the fields are blank.
If I fill in the blanks again and save, I get redirected to the Keywords List again and the cycle continues. I discover that a new page is created instead of editing over the previous page, which is what I set out to do. If I click on the title for the page, a duplicate window opens.
Also, the "Create a new page now" link under the Create Page subsection appears to be hyperlinked to the incorrect URL.
Links
This could be an extremely useful section if some of the features are improved upon.
The Links Manager tool is great for analyzing and keeping track of sites that you would like to solicit links from. It displays PR and backlinks, though I have no idea where the backlink count is coming from. You can also give the sites a rating and add comments. My suggestion would be to add a way to sort the sites using any of the headers provided. Also, an option to export directly to excel would save a step. Currently, the only way to export any data is to a TSV file.
The Link Search Tool is a nice feature based on Rand's Long List of Link Searches. There is a free version here.
The Competitor Link Search Tool searches for the top sites for the specified keyword and then reports 100 of their backlinks. This tool would be a lot nicer if there were comparative analysis features. Currently, the export function does not work properly, so I can't even analyze the links in my souped-up Excel files.
I do love the Link Build It! bookmarklet:
When you're link building, you need to judge the quality and strength of a potential link, and track your progress in obtaining a link. The Link Build It! Bookmarklet makes link building easier. You can instantly check important strength indicators for a page, and if you think it's a keeper, just save it to your Link Manager. Then keep right on browsing!
If I could have a bookmarklet feature for my Excel file, I'd be golden!
More
The More section keeps track of your competitor's sites and a few data points, but the Competitor Finder feature doesn't work at this time.
Conclusion
So, I started out really enthusiastic and hopeful that SoloSEO would be the perfect solution to my jumbled mess of bookmarked tools, FireFox extensions, shortcutted programs, and souped-up Excel files… but I ended up being somewhat critical in my review and disappointed that I didn't find a tool that was customized to my exact needs. 😛
Personally, I am not sold on SoloSEO… but that's because I have my own established system (jumbled mess mentioned above) that is much more powerful and molded for my optimum use.
However, I do realize that this is a brand new service that is bound to undergo changes and improvements in the future. I do believe that SoloSEO is a great product, and with a bit of improvement, it will prove to be extremely useful to someone who is in the earlier stages of development in their SEO learnings.
I would recommend the beginning to intermediate SEO to try out the free two-week trial.
Check It!
—kid disco
Update: Michael Jensen from SoloSEO commented below.  It looks like some of the issues I mentioned have already been corrected and a few of my recommendations have already been implemented!  Talk about speedy turnaround!  Great work, guys!  Now how about a tool that extracts knowledge from minds of the best SEOs and runs automatically? 😛