I was just clicking around on Digg and a banner ad by Ask.com caught my eye. I always like to see what the search engines are doing to market themselves, so I took a closer look and was pleasantly surprised to see that the quote in the ad is by SearchEngineLand:
(Click on image to enlarge)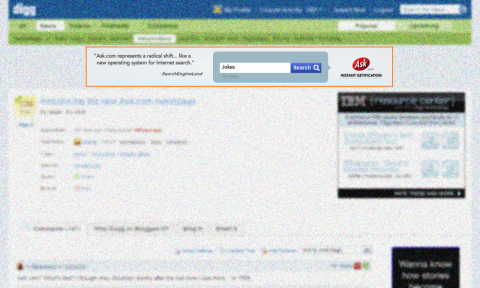 Here is a closer look at the ad:
(Click on image to enlarge)


The quote reads:
Ask.com represents a radical shift… like a new operating system for Internet search.
I thought it was cool to see a quote by Search Engine Land in a search engine's banner ad, but the funny thing is that I couldn't find the quote anywhere when I searched in Google and on SearchEngineLand.com. Then I checked in Ask (apparently, Ask doesn't exact match text in quotes), and finally found the AP article where the quote came from.
The actual lines from the article read:
But Ask.com's 3D concept represents a more radical shift, said veteran industry observer Danny Sullivan, who likened it to an attempt to create a new operating system for Internet search. "I like what I have seen so far, but this is still a big gamble," said Sullivan, editor-in-chief of Searchengineland.com.
Not a bad quote by Danny, at all… but you can see how Ask worked it to their favor. (Is that legal?)
The other weird thing is that the banner ad shows the word "Jokes" entered into the search box and the word "Ninjitsu" underneath it. Much to my disappointment, I didn't see anything like that when I tried:
(Click on image to enlarge)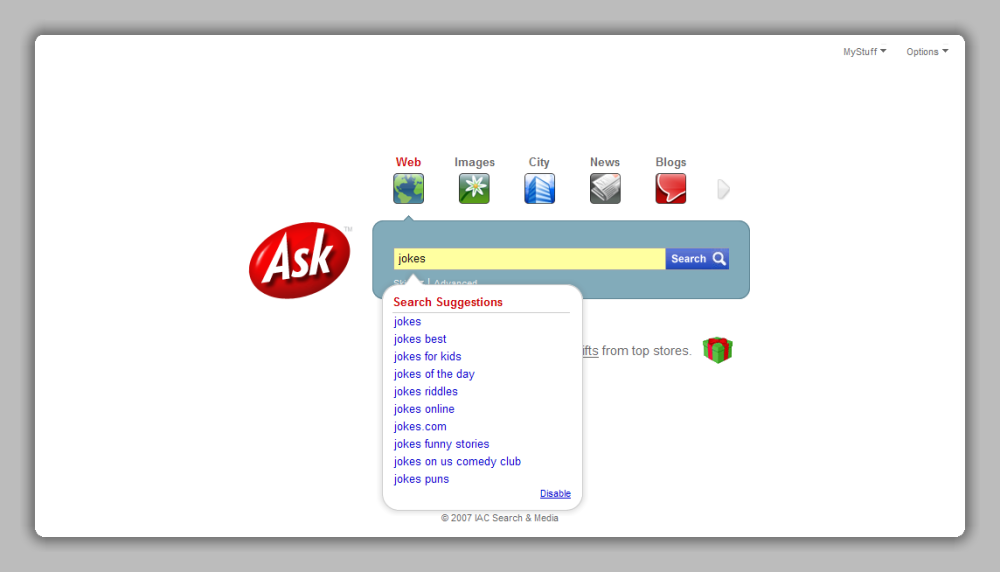 I'm also wondering what jokes have to do with ninjitsu and how they thought these two words were relevant to the ad. When I searched for jokes and ninjitsu on Ask, I didn't see anything related to the ad. I even tried ninjitsu jokes. Yet another search opportunity lost by a search engine that's trying to make it.
At least Google gave me something to chuckle at:
If a Catholic nunn learned ninjitsu, would she be called a ninja, or a "nunnja" ?
Check it,
—kid disco