So… the lovely Pamela Lund, who will be speaking at IM Spring Break, came up with the crazy idea to take a road trip all the way from SoCal to Deerfield Beach, FL…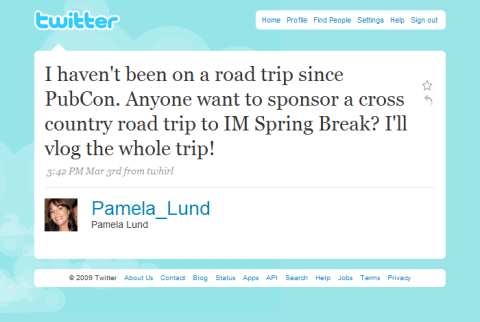 I thought it was an AMAZING idea and embraced it immediately!  I grew up on road trips and never stopped loving them!  I've probably visited at least half the states via road trippin'.  Like Pam, my last road trip was to PubCon in Vegas.  Cruisin' the open road with @onehappyguy in the Cobra with the top down… good tunes and conversation… what's not to like?
Most of the peeps I know in SoCal complain about driving more than 2 miles and don't get why I like to drive for hours when I could fly to a destination in much less time.  Where's your sense of adventure, yo?! I suppose I can understand, though, with the crazy traffic and all the people who don't know how to drive… which seems to be all of them.  Maybe road trips are more of a Midwestern thing.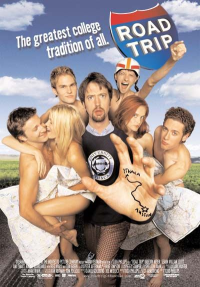 Anyway, we gots to talkin' and are determined to do Spring Break right with a good ole road trip!  To make it more interesting, we are opening it up for sponsorship.  We don't really know what we're doing (-well, yes we do)… but if you know anything about us, you should know that we are both fun-loving people! 😛
We just decided on this on a whim, so we don't have all the details worked out yet. IM Spring Break occurs during the first week of April, so we will have to leave about a week or so prior to leave enough time for the drive and various stops. We'll probably take our sweet old time making our way back, too…
The most important item we are looking for is a vehicle.  If worse comes to worst, we can take the Cobra, but we would prefer something a little more roomy, rugged, and weather-bearing.  A nice SUV would be… nice!  Surely, there must be someone out there in our circle who can hook us up!
Now, the fun part: We will also take your dollars! 🙂 We're not just gonna take it, though… Between the two of us, we have thousands of blog subscribers and Twitter followers who latch onto every written word we mutter. 😉 Not only that, Pam is an experienced vlogger… I'm sure you've seen the video where she looks like she's naked!  She's quite the "pro" ain't she? Heh heh… So, we will be tweeting, blogging, vlogging, and doing some live streaming throughout the entire trip! We'll be sure to pimp you out! 😛
UPDATE: Check out the AWESOME rewards for sponsoring us!
UPDATE: Check out Pam's latest vlog about the road trip!!!
So, send us your ideas (and money 😛 )!  We are open to discussion on sponsorship. If you are on, or near, the route of our almost 3000 mile trek (and 3000 miles back!) maybe we could even drop by and do a little sumthin-sumthin…
FYI – We're not hard up for cash… We've been trying to keep the economy alive! 😉 We're just looking to make things more interesting and have some fun! If we happen to get mad cash rollin' in, we will donate the proceeds to charity. We're thinking that we'll keep it in the 'hood and use it to support the IM Charity Party peeps.
If you haven't registered for IM Spring Break yet, what are you waiting for???  They just lowered the price from $750 to $379!!!  I can't imagine that there are many tickets left, so get yours now and meet us there, if we make it!
If you just want to keep tabs on the craziness, make sure to follow us on Twitter and use the #IMRoadTrip hashtag!
If you would like to help us out in any way, hit us up!
Spring Break, yo!
You may leave comments at the bottom of the page, or use this form to contact us:
[contact-form-7 404 "Not Found"]