iPhone is a Revolutionary Mobile Phone
iPhone is a Widescreen iPod
iPhone is a Breakthrough Internet Communications Device
Via PRNewsWire:
Apple® today introduced iPhone, combining three products-a revolutionary mobile phone, a widescreen iPod® with touch controls, and a breakthrough Internet communications device with desktop-class email, web browsing, searching and maps-into one small and lightweight handheld device. iPhone introduces an entirely new user interface based on a large multi-touch display and pioneering new software, letting users control iPhone with just their fingers. iPhone also ushers in an era of software power and sophistication never before seen in a mobile device, which completely redefines what users can do on their mobile phones.
This sucker is BEAUTIFUL!!!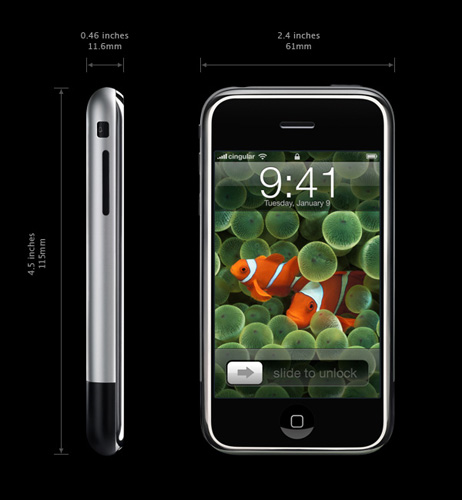 It will be available in the U.S. through Cingular, in June. For more information, check out Apple's site.
Engadget also has some great coverage of Steve Job's keynote, where the iPhone was introduced. Google's Eric Schmidt and Yahoo's Jerry Yang also took part in the presentation.
You may also watch the keynote (once Apple puts it up on their site).
Will you be hoppin' on the I-Train?
Check it!
—kid disco