I initially found out about Internet Marketing Ninjas last month at PubCon, where I picked up this nifty little tchotchke: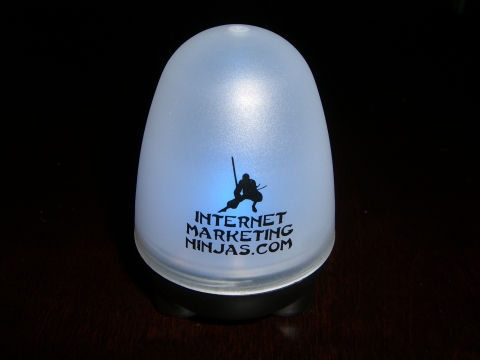 Membership just opened up, yesterday. Since I found out about the service, I've been saving up my money here and there so that I can sign-up as soon as possible. I plan to do this within the month.
If you haven't heard sbout Internet Marketing Ninjas, yet, it is a brand new membership program developed by Jim Boykin. It includes training videos from the best minds in internet marketing:
Also included are some of the highly sought out in-house tools used by the staff at We Build Pages, in addition to some of their more familiar tools that were previously public.
The price for a one-year membership is $2995.00. Now that's a lot of money, but just from watching the preview videos (which already reveal a lot of valuable information) I am convinced that it is well worth it.
One of the first things I noticed when watching the preview videos were the fun and interesting sets. I don't know if they take place in the offices of We Build Pages, but the location/scenes, were really cool… and made the videos really easy to watch. Not to mention the videos were filmed well.
I heard one of the best testimonials of Internet Marketing Ninjas from Todd Malicoat, when we were chillin' at PubCon. When I asked him if he would advise me to shell out the money for the membership, he enthusiastically said that Shoemoney's videos alone are worth the dough!
More more information about Internet Marketing Ninjas, be sure to check out the website. Even without purchasing a membership, the preview videos themselves are worth watching. You can also read more about it on Jim's blog, and an interview of Jim about Internet Marketing Ninjas by Lee, today, on TopRank.
Check it!
—kid disco