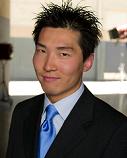 James Sun, the CEO and founder of Zoodango.com is one of the cast members competing to become Donald Trump's next Apprentice.
In my opinion, he fared very well in the first episode. He wasn't overpowering or too outspoken, like some of the other contestants. He's really smart, energetic, quick, and personable.
Unfortunately, for James, I'll be rooting for my friend, Nicole, but I'm liking that South Koreans are getting some airtime and showing well for themselves! (Yul won Survivor.)
James is nicknamed "The Webhead" in his bio on NBC's Apprentice site.
James, 29, immigrated from Seoul, Korea to the United States when he was four years old, and grew up in Houston, Texas and Seattle, Washington. He started a technology investment fund at age 18 with just $5000 and turned it into over $2 million at age 23, while earning his degree in business and computer information systems from the University of Washington, from which he graduated cum laude. After graduating college as a multi-millionaire, James joined one of the largest business consulting firms in the world, offering management consulting services to Fortune 500 companies. He currently lives with his wife and two children in Seattle, where he is the CEO and founder of an internet company that provides a unique approach to professional and online social networking at www.zoodango.com. James feels he should be the next Apprentice because, he says, "I bring a strong balance of Fortune 500 experience and the initiative and drive of a true entrepreneur, and I've already proven myself by achieving the 'American Dream' since I started with nothing to build everything I have today."
Honestly, I've never heard of Zoodango before. It appears to be like a combination of LinkedIn and Meetup.
From Zoodango's about page:
Zoodango is…

the newest social networking site for professionals. Our site connects professionals through local events and preferred venues like Starbucks. Zoodango is unique because it allows you to find people online and network with them face-to-face.
Glancing through the site, there doesn't appear to be many users, yet. The site is also incomplete and lacks fundamental SEO elements (call me! :P). However, the site is new (launched at the beginning of December) and the show will undoubtedly give it a boost.
I'll be definitely be keeping an eye on it.
The Apprentice is on Sunday nights at 9/8c. You can catch the first episode online at NBC.com.
Lates!
—kid disco