Updated at end of post…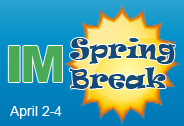 So… it takes a lot for me now to get motivated to write something here.  I've become fortunate enough to be able to spend considerable time doing enjoyable things away from the 'puter… Things like chillin' and partyin' with like-minded peeps. 😛
That brings me to the motivation for this post.  Many peeps know by now that I don't really "attend" conferences. Rather, I tend to find myself at the same location where conferences are occurring, and for some reason end up migrating toward the festivities where alcohol is present. In strolls IM Spring Break.
Look peeps, it only costs $500 to attend… and you get:
An OPEN BAR happy hour
3 days of GOOD catered breakfast and lunch
A dinner BBQ partay
ANOTHER OPEN BAR happy hour!!!
It sounds more like an all-inclusive vacation to me!  And it's ONLY $500, but you need to register by the next two days (by Feb 28).  Otherwise, the costs go up to $750, which is still a great deal!  Also, there are a limited amount of spots available, so don't dilly-dally!
Oh yeah… so there are the session thingies too, which I will actually be trying to attend this time.  😉 Three of my most-favorite peeps of all time are keynoting:
In addition, some of the bestest minds in internet marketing are speaking… just check out the session list!
IM Spring Break in Ft. Lauderdale for 5-hundo! No brainer… Did I mention the OPEN BARS? Drink with ya there!
Update: Just when I thought it couldn't get any better, it was just announced that IM Spring Break tickets have been dropped to $379, thanks to the sponsors!!!
Check it!
—kid disco