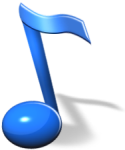 Everyone knows that music is an essential variable in the road trip equation… We know that a lot of you are total music enthusiasts, so what better than to ask you all what we should listen to during our fabulously looong journey for IM Road Trip?
Our tastes in music covers quite an expansive variety of tunes.  Pam grew up listening to country in the square states, played in orchestra through high school,  and can now be caught singing in her car to everything from Snoop Dogg to Neil Diamond.  I played in symphonic and jazz bands through high school, jammed in a rock band in college, and now find myself enjoying the sweet and soft rhymes of Lil Wayne.
We like pretty much all types of music, as long as it's good.  Though, we have no real definition of "good"… other than the absolute fact that: whatever we happen to like for whatever reason = good… 😉  For example: "Blue Train" by John Coltrane is good… "Everlong" by the Foo Fighters is good… "Fortunate Son" by CCR is good… "Ice Ice Baby" by Vanilla Ice is good… "Mason Jar" by Deliverance Machine is good… "Mope" by Bloodhound Gang is good… "No Handlebars" by the Flobots is good… "One More Drink" by Ludacris is good… "Girl on TV" by LFO is good… Now, try to formulate a rhyme or reason for that collection of songs! 😛
So, we will be accepting any and all requests… Just make sure they are good!

Also, we've had some extremely generous internet marketers offer up some super sweet benefits for our IM Road Trip sponsors, so don't miss out on this AWESOME opportunity to get over $1400 worth of the best internet marketing tools for just $150!
Leave your music requests for us in the comments below!