Mother Fucker!!! Fuck Fuck Fuck Fuck Fuck…
Okay, that didn't make me feel any better.
Sorry for the language. I actually thought about editing it out, but nah… everybody gets pissed and swears sometimes. Well, I do anyway… and I'm keeping it real.
And since I don't swear very much – especially in this blog – I'm gonna exploit the fuck out of it in this post.
So, why am I pissed?
Well… I've been working on tweaking this site the last couple nights. Mostly layout and CSS stuff that I'm not really good at. Anyway, after a fuckload of hours, I had it looking like I wanted it to and then viola! I go to save and the CSS file gets completely wiped out!
I have no idea how the fuck it happened. I tried getting a hold of my host, but it seems like their lines are bogged down. I'm thinking that my host's server had some sort of momentary glitch at exactly the same split second that I hit the "Save" button. Godammit!
But, everything should be okay because I can just load the backup file, right? Nope. I tweaked the CSS so much that the backup file renders the site pretty damn useless.
The CSS file isn't indexed, as far as I can tell, so I couldn't find a cache of it anywhere. Does anyone have any suggestions on how else I might be able to retrieve it? I'm thinking it's gone for good, eh?
Mother fucker.
So, I had to switch to this boring-ass default theme for now.
Now, I don't know if I'm going to try to rehash the theme I was using previously or try out a new one. What I really want is a sweet-ass custom Pearsonified theme, but I don't think I can justify the cost with my little blog here… plus, he's not taking new clients right now.
I previously mashed-up elements of the themes Regulus and Fluidity. Here's the little screenshot that I just happened to save a couple days ago for my MyBlogLog thumbnail: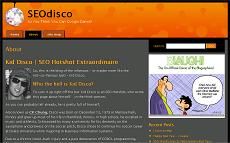 I like the orange and gray color scheme I was using before, but I can tweak any theme to incorporate them. If you have seen a cool theme that you think would fit the persona of my blog, please let me know!
Fucking pissed,
—kid disco