When Google rolled out with their Universal Search model, one of the few noticeable design changes that was made to the search results page was the change in color of the horizontal bar under the search box. The color updated from a light-blue to a nice and clean web 2.0ey light-grey/white gradient:
(Click on image to enlarge)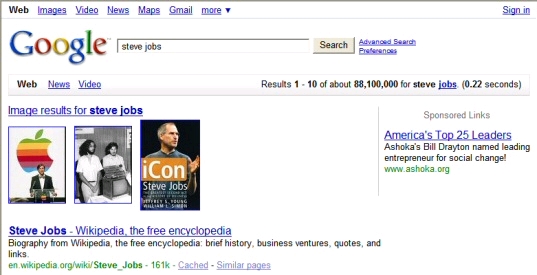 Well… while I was surfing around Google today, I thought that something looked different… but I couldn't pinpoint it until now.
They reverted back to the light-blue bar:
(Click on image to enlarge)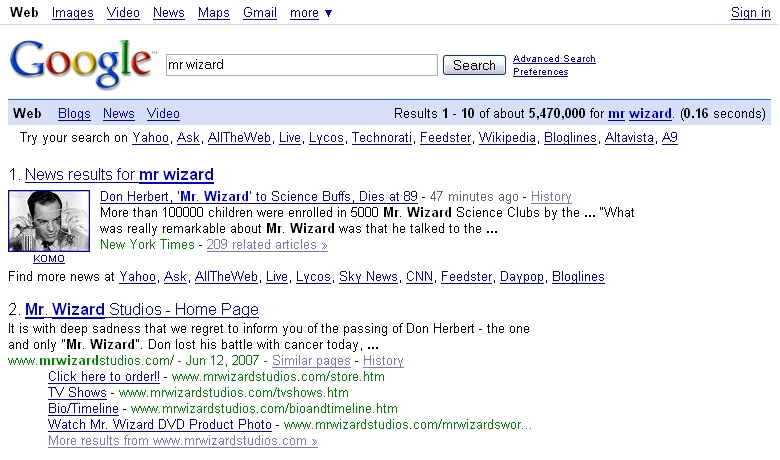 (FYI – I use the CustomizeGoogle Firefox extension which is why the results are numbered and there are "Try your search…" links in the above screenshot.)
Is anybody else seeing this? Has this been completely reverted? My guess is that they are testing the design because not many people are clicking on those new dynamically generated navigation links: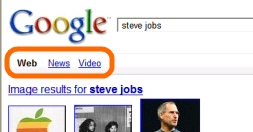 If that's the case, I doubt that the switch back to light-blue will help very much, if at all. Those who are not as geeky-cool as us probably have no idea they are there. I would think that a more drastic change is needed for the average user to notice them.
Now that I said that. Do advanced users even use those links? I know I don't. The primary navigation at the very top with the "more" menu is already second nature to me, so I instinctively use those if I'm seeking another vertical.
Anyway, whatever the reason is for the change, I don't like reversion to the dull and flat light-blue at all. Come on, it's so Q1 of '07. Yahoo's new bar looks pimp… Let's get with the times, G!
Respek,
—kid disco