While skimming through Sphinn, I came across this great interactive spoof demonstrating what Google would look like if they had to optimize their homepage for their own search engine.
That got me curious and led me to perform a query for search engine in Google. Ironically, Google doesn't even appear on the first page:
(Click on the images to enlarge. Close "X" appears at bottom-right of images.)
Dogpile
Altavista
Wikipedia
Live
Yahoo
Search Engine Watch
Webopedia
Search Engine Colossus
1-Hit
Search Engine Showdown
Dogpile is #1? Altavista #2? Oh, surprise… Wikipedia is in the top 3. Live is the first of the majors at #4 and Yahoo is next at #5.
Okay, so Dogpile and Altavista probably have a ton of trust acquired throughout the years and they have age on there side… but you don't even have yourselves on the first page? Actually, Google.com doesn't even show up until #86!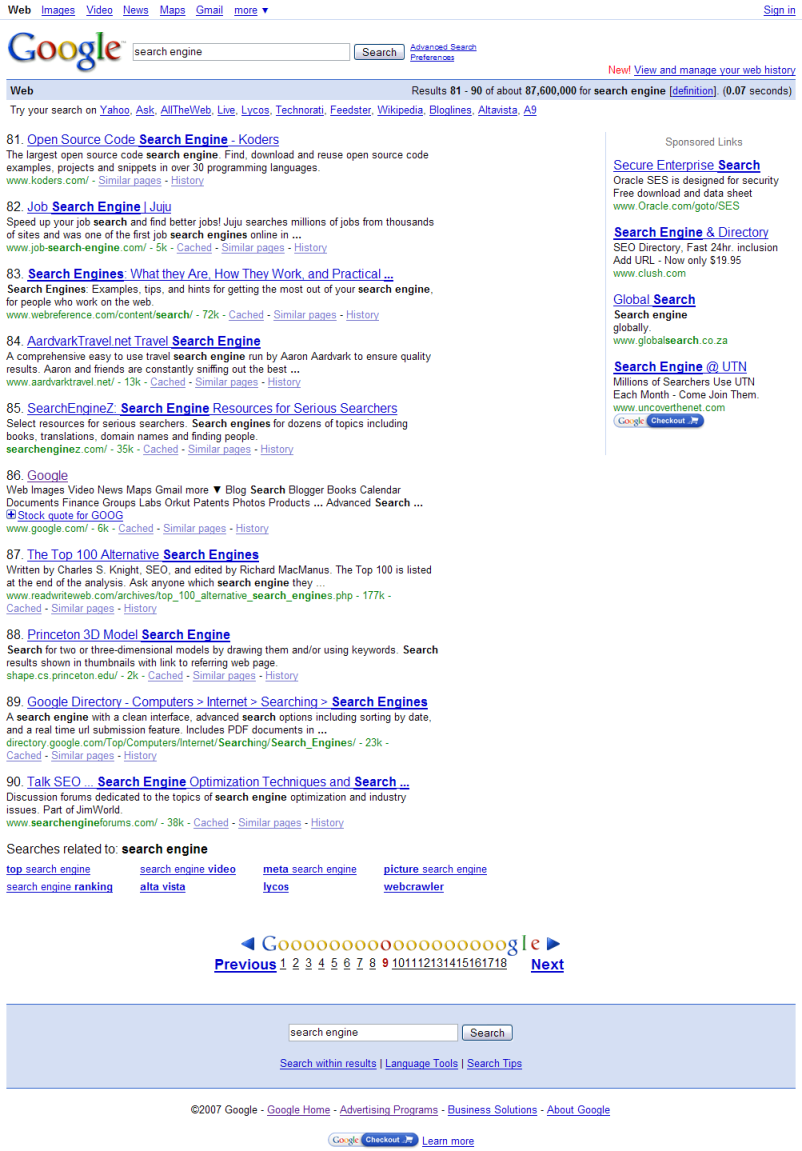 Way to go on your description, too, Google.
I'm actually most surprised that an SEO company (1-Hit) that I've never heard of (and is borderline keyword stuffing) is on the first page for a meaty term like search engine.
I'm pretty sure I've seen this done before, but I can't seem to find any reference of it, so I decided to test the other major search engines and see how they did, as well…
I performed the same search on Yahoo:
Yahoo
Google
Dogpile
AltaVista
WebCrawler
HotBot
MetaCrawler
AllTheWeb
Lycos
Search Engine Watch
Well, look who's #1. Fancy that! Nevertheless, these results look a lot better than Google's.
Let's see how Live does:
Search
Google
Ask
AltaVista
Wikipedia
Yahoo
Yahoo
VodaHits
Search Engine Radio
Submit Express
Okay… so there's a few listings that are expected, but Search.com at #1? A site that is 403-forbidden at #9? Way to go, MSN… great job, as always! They don't have themselves on the first page either. They don't show up until page 7.
Fine, Ask… you can play, too:
Ask
Blog Search Engine
WebCrawler
AltaVista
Scrub The Web
Dogpile
Search Engine Watch
HotBot
Search Engine Roundtable
Wikipedia
Well, look who's #1. Fancy that! And none of the majors are on the first page!
So, there you have it. Yahoo and Ask both have themselves at the top spot for the term search engine while Google and Live aren't found in their own results until the 7th and 9th pages, respectively.
Ask being #1 in their own results is pretty fishy… a lot more fishy than Yahoo, anyway. This post really isn't an analysis of SERPs, but I think Yahoo's delivers the most relevant results in this case.
Since this really isn't an analysis of the SERPs, I'm also not saying that each search engine should have their own listing at the top of the results or why the search engine SERPs are the way they are. That might be something I may tackle never.
Interestingly enough, AltaVista happens to be the only listing that appears on the first page for all four search engines.
Word,
—kid disco