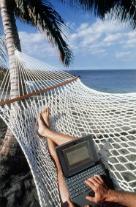 I did it!
This past Friday was my last day working for the man. I am now my own boss, full-time!
As my own boss, my first order of business is to take a vacation!
Damn… I love how that works!
It'll be a working vacation, but a vacation nonetheless. I'll be taking these next few days to get everything together for my SEO consulting business, based out of Orange County. Then I'll be in Chicago from June 27 – July 17 to visit with friends and family and work during the downtime.
If any of you will be in Chicago during that time, hit me up! I'd be happy to meet up for lunch or happy hour… I will be splitting time between the suburbs and downtown, so let me know!
I will also be back in Chicago for most of August. It must be wedding season because I'll have 3 to go to during that month!
Sounds like I'll be on a permanent vacation! 😛
Now that I'll be on my own, I hope to post more here… but I'm not sure how well that will go these next two months.
I'm also looking to take on 1 or 2 more clients, so if you know anyone that may be interested, it would be much appreciated if you can send them my way! 🙂
Last, but not least, there are a few friends that I need to thank for helping me through the process of me becoming my own boss. They are Todd Malicoat, Natasha Robinson, and Neil Patel – to whom I owe the most thanks to! Thanks to them and the general kindness of all the peeps in the SEO industry, I am in the position that I am in now, and I love it! Thank you all, so much!
The boss,
—kid disco
Find out more about Orange County Independent SEO Consultant, CK Chung.