Hot on the heels of my last post in which I found Dogpile ranking #1 in Google for the term search engine, J.D. Powers and Associates reports that Dogpile ranks highest in customer satisfaction among search engines for the second year in a row:
The study, now in its fourth year, examines consumer behavior, experiences and satisfaction of Internet service subscribers with the most frequently used online services. These include search engine/functions, web portal, instant messaging, social networking, music downloading services and online console gaming systems.

Dogpile improves by 14 points since 2006 to earn a score of 818 on a 1,000-point scale. Dogpile performs particularly well among Internet service subscribers in all three factors that determine overall satisfaction (listed in order of importance): functionality, ease of use and results. Google follows Dogpile in the rankings with a score of 794, while Ask.com follows Google, earning a score of 784.
The complete standings are as follows:
DogPile
Google
Ask
Yahoo
MSN
AOL
Internet Explorer
(click on image to enlarge)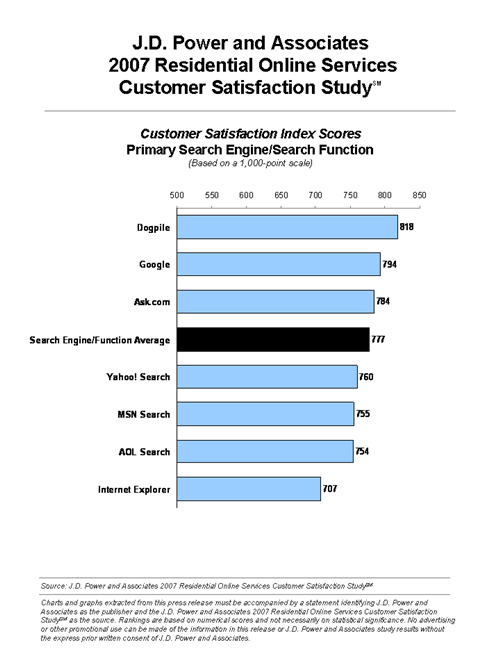 Okay, seriously. Who uses Dogpile? I just tried it, out of curiosity, and it sucks! The sponsored ads mixed in with the results are not only irrelevant in most instances, but annoying as all hell!
The J.D. Powers release states:
The 2007 Residential Online Service Customer Satisfaction Study is based on responses from 10,787 residential customers of Internet service providers nationwide.
Where did they find these people? I question the validity of this study, especially since the responses of the 10,787 voters resulted in Internet Explorer receiving a score of 707/1000 in customer satisfaction for a search engine.
Check it,
—kid disco