I've already upgraded all of my WordPress powered blogs to the latest release… but I ask if anyone has not upgraded because there is something that keeps catching me off guard.
For some reason, when I try to insert hyperlinks, I keep hitting the Cancel button rather than the Insert button. In 2.1, the Cancel button appears on the left: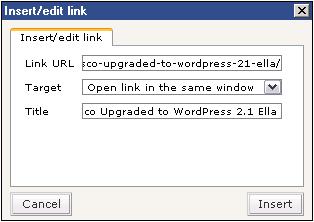 I am wondering if the Insert button appears on the left in the older versions of WordPress. Can anybody check real quick? I keep pasting the link in and then typing out the title just to end up cancelling the process. It's bugging the hell out of me!
If the older version does have the buttons switched around, I wonder why they would change something like that? It would be a cruel joke.
If the buttons are not switched around and, indeed, in their normal positions… I wonder what is wrong with me? Is anybody else running into this pesky annoyance?
Holla!
—kid disco